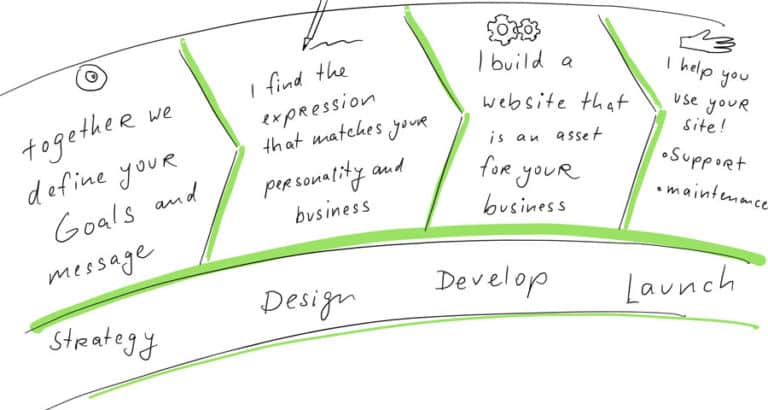 Don't let the noise of a chaotic digital marketing world get in the way of building your presence online.
Start connecting your story with your ideal clients - with a strategic online presence built for growth.
Here's how we'll bring your unique narrative to the forefront:
Everyone loves a beautiful website. However, you need a functional, optimized, and user-friendly flow to help attract your audience and increase conversion rates.
Starting with a strategic plan to roll-out the many elements of your website, we'll connect accessible design with all the bells and whistles you love to meet the needs of your audience.
Content Strategy & Copywriting
Does content feel like a last minute task? Not sure how to strategically approach copy to meet your audience's needs?
Your content is your best sales asset when done right. Perfect your brand voice, messaging, and customer journey with a detailed content strategy and copy that introduces your brand to your audience's unique narrative.
Search Engine Optimization
Does SEO seem like a totally foreign language to you? Become fluent without having to learn it all on your own.
Your strategy will include keyword and local SEO research that will fuel your content. You'll also have access to a thorough competitor analysis and ongoing analytic reporting so we keep you at the top of the Google ranks.
Need a website that is fast, secure, and easy to maintain? Of course you do!  SSL certificate, firewall, hacker protection, daily backups and software updates – I got you covered.
Here's the thing about security–you don't think about safety until you are no longer safe, and an average of 73% of Americans become victims of cybercrime. Your business has too much to accomplish. Don't let security get in the way of your growth.
Need a helpful tool to integrate your social media management into your digital marketing plan? Want to automate your email marketing? Need templates and graphics for all your marketing materials?
Grow your following and your email list with curated lead magnets, email templates, and automations that continually engage your audience to take action.
Web development and marketing are constantly evolving. Wouldn't it be a relief if you could keep up with it all?
Access creative consultancy and learn the ropes of the web world with one-on-one coaching. Continue bringing your vision to life, while knowing what's happening in the backend