#shemeansbusiness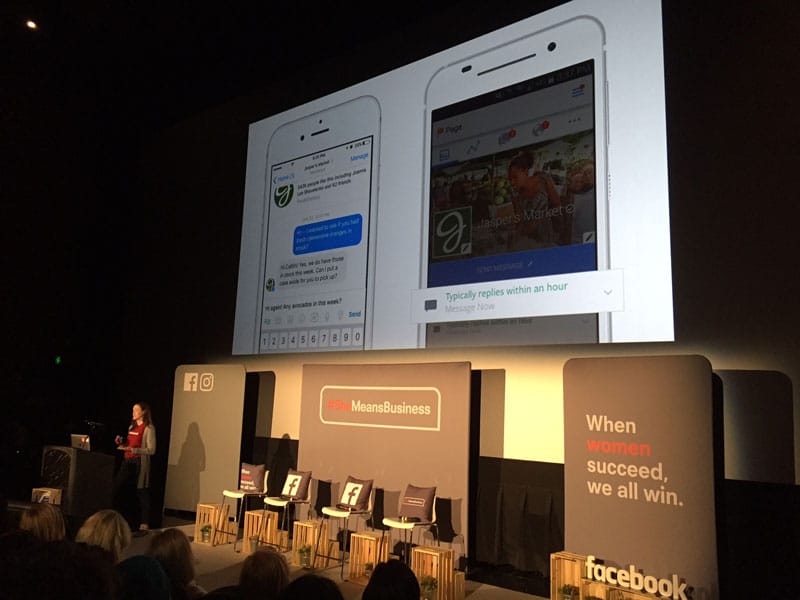 Recently I went to a free "Boost Your Business" event hosted by Facebook's #shemeansbusiness on how to successfully grow your business using Facebook and Instagram, and it was really informative and inspiring. (As of today, they are still offering them, so you can check here if there are any upcoming events in your area.) Not only did they have a great host and speaker, they had a panel of three women business owners who gave real world examples of how they have been using Facebook and Instagram to boost their businesses.
Can Facebook really help you grow your business?
Before I went to this event I didn't think Facebook would be a good marketing tool for a web designer/developer, but now I can see how there's a place for every sort of business on Facebook, and I'm excited to get started. So I am writing this article as I go along, documenting each step that I take. Then I plan to report back in a few months about any progress I have made.
Interesting Facebook and Instagram Data
These statistics were given at the event:
200 million people are on Facebook per month in the United States.
100 million are on Instagram per month in the United States
1 in 5 mobile minutes is spent on these platforms
Okay, let's get started. Here are the steps I am taking…
Step 1 – Create a Facebook business page
You can't use any of the Facebook tools for business unless you create a business page. So go to your personal Facebook profile, and from the blue menu bar at the top, click on the little arrow and select "Create Page." Select your type of business, then Facebook will take you through the steps to add your business name, upload a profile picture, a cover photo, "About" information, and various other settings.
Facebook has tons of great help documentation. Click here to learn more about managing your page settings.
Step 2 – Link to your Facebook business page from your website
Add a Facebook icon link to the header and/or footer on your website. Make sure your link opens Facebook in a new tab so that you don't completely take visitors away from your site. If you have a newsletter, you can add a similar link there. Add links to you email signatures as well.
Step 3 – Install Facebook Pixel
Facebook pixel is a piece of code you add to your website. It allows you to track who is interacting with your website as long as they are also logged onto Facebook. This data will provide you with valuable demographic information that you can use to understand your audience, how they interacted with your site, and optimize ads based on that information.
How to:
Click on the arrow in the upper right and select "Manage Ads." Click on the hamburger icon on the top of this page, and select "Pixel" under the Measure and Report column. Then click on the "Create a Pixel" button. You will be led through instructions on how to install the pixel code on your website. This article from Clickminded does a great job of explaining the steps to add it to a WordPress site.
Step 4 – Start posting
Before you can grow your audience, you need some content. So start posting! What should you post? Facebook gives you lots of options but make sure that whatever you post, that it's true to your mission. Be intentional, consistent and predictable. Be personal. Show people what you care about. Tell your brand's story. Show people why you do what you do.
You want a post to be engaging, meaning that it sparks enough interest to not only get someone to consume the content, but to get them to comment, like, or share it. Try to provide a nice mix of engaging content. Besides just text, here are some of the types of content to post:
Post Links
Link posts are great for driving traffic to your website, so create link posts for your blog posts, pages, and products. In the text portion of your update you can include some sort of call to action to entice people to click the link. (FYI, Call to Action buttons are only available with paid ads.) Maybe you have a free download on your site. Entice them with that offer. Maybe you want to promote a product by offering a discount. Provide a discount code.
Engagement on link posts can be pretty low. That's because you're sending the user off Facebook and onto another site. Which is not a bad thing if you're sending them to your website, but not so great if it's not your site.
Post Photos
People instantly connect with images, so add some captivating photos or illustrations to your posts. They're also a great way to personalize your brand. You can post a single image, an album, slideshow, or carousel.
Post Video
Post video! Videos are incredibly eye-catching because they start playing immediately on Facebook, without sound. Because people may never turn on the sound, it's important to add captions to your videos. Video may seem like a daunting prospect, but it's easy to take video on your phone, and there are lots of free editing tools out there. You should definitely give it a go because it's a great way to tell your story and build trust. I like this article, with some great tips on posting Videos on Facebook.
Step 5 – Grow your audience organically
Okay, so this is the part that confused me the most. How do I get people to follow me on Facebook? Do I invite friends and/or strangers to like my page? How will my posts show up in anybody's feed?
Here's the deal…
Facebook develops algorithms aimed to give the people what they want. Their goal is to provide you with engaging, relevant, high-quality content that you love, and there are thousands of factors that influence what shows up in your news feed. So, how can you tap into that? This is a HUGE topic. So, I am going to keep it as simple as possible, with just a few tips.
Remember, you want to grow your target audience, not just any old audience. So while you may be tempted to invite all of your friends to like your new business page, this might not be in your best interest. Before inviting a friend to like your page, ask yourself if he/she makes up your target audience. If you invite all of your friends and family, it could very well hurt your reach by working against the Facebook algorithm. So, what should you do? Here are a few ideas:
As mentioned in step 2, provide links to your Facebook page from sources other than Facebook – like on your website, in your email signature, on your newsletter, from other social media platforms, from your Etsy shop, to name a few.
Consider creating a Facebook group. Facebook groups are a great way to create a trusted community of likeminded people. They're also great for promoting events, getting ideas, tackling problems, and really getting to know your audience. If you don't feel like creating your own group, then join and interact with other groups.
Put a Facebook icon and the link to your business page on your business cards and any other printed promotional material.
One of the ways to increase exposure and likes that I read about is to share your post on your personal page as well. I'm not sure if this is a good idea or not, as you really want to tap into your target market, and I'm not sure if this would be good or bad according to the Facebook algorithm.
Liking vs. Following
I was confused about this, so I thought I'd explain: When someone likes your Facebook page they will automatically start following your page and the like will show up in their "liked" directory. However, after liking your page, they can opt to stop following you. When someone is on your business pages, there is also the option to click "follow" which means your posts will show in their feed, but will not be tracked as a "like."
Step 6 – Advertise
So this is what the Facebook #shemeansbusiness event focused on most. Of course. It's where the money comes from. But it's also how you can reach your target audience – with laser focus. Because it's hard to rely on just organic traffic, and word on the street is it's just going to get harder. Fortunately Facebook offers a variety of options, and you can work with any sized budget you want.
I'll do my best to to explain each.
Boost a post from your business page.
The easiest way to advertise on Facebook is by boosting or promoting a post. On all of your business page posts you will see a blue "boost post" button in the lower right corner. Click on it, and follow the very straightforward steps. Click on the "Create New Audience" link and you'll be surprised at the demographics you can select to target your ad. Plus you really can create an ad to fit any budget. So start small. Test the waters. Grow comfortable with it, and gradually expand. You can also boost your business page by clicking on the "Promote" button in the left-hand navigation section. Or boost an event. It's all basically the same process. Here's what it looks like. (Notice the Post Button? This is where you can create a call to action button like "Shop now", "Learn More", "Sign Up".)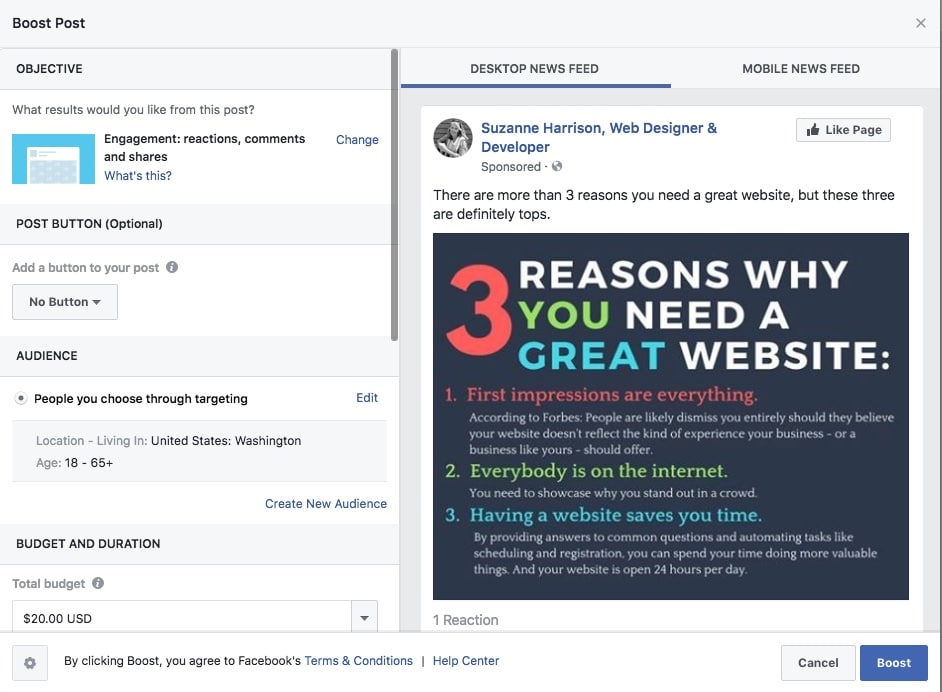 Create an ad in Ads Manager
Ads manager is where you create and manage ads to run on Facebook and Instagram. You can manage when and where they'll run, and track how well your campaigns are performing. You'll want to take some time to create an effective ad – one that's visually appealing, relevant to your target audience, supports your business objective, and presents a clear value proposition and call to action. Here's a greet article on HubSpot about creating ads that work on Facebook.
When you're ready to go, click on the little down-arrow in the menu bar and select "Create Ads," and then you'll go through the following steps…
Choose your objective.
What do you want people to do when they see your ads? Advertising objectives are divided into three categories: Awareness, Consideration and Conversion. Learn about the different advertising objectives and how each one can help you achieve your business goal here.
Here are the basics:
Awareness:

Generates interest in your product or service.

Consideration:

Gets people thinking about your business and interested in more information about your products and services.

Conversion:

Encourages people to purchase your product or service.
When you create an ad, you first choose your objective. The objective you choose needs to align with your overall business goals. If you're just starting out, you probably want to start with Awareness.
Select your audience.
This is a very useful feature that Facebook offers. You can choose to focus on:
Core audiences: Manually select your audience based on demographics, locations, interests, and even behaviors.
Custom audiences: Upload your contact lists to discover an existing audience, re-engage with them, and develop an improved relationship with them.
Lookalike audiences: Find people similar to an existing target audience. When you create a Lookalike Audience, you choose a source audience (for example, if you create a Lookalike Audience from your Page fans, your Page fans would be the source audience) and Facebook finds

people who are similar to (or "look like") them.
Decide where you want to run the ad.
You can select Facebook, or Instagram, or a few other Facebook related places.
Set your budget.
Here's where you decide how much you want to spend. You can define an overall amount to spend, or the cost of each result you get from the ads. Here's more help from Facebook.
Pick a format.
Photo. Video. Carousel. Slideshow. Canvas (a mobile optimized full-screen experience.) Choose the best format to support your message and business objective. You'll also be prompted to add some text, a headline, a description, and a destination URL.
Submit your order.
Review everything and confirm that you're good to go!
Measure.
Go back to your Ads Manager to see the impressions/views, reach, and engagements your ad is driving. If you've installed Facebook Pixel, you can see how many visitors you got to your site and what they did there.
Create an ad using the Ads Manager App
This is an an app that allows you to manage your ads on your mobile device. It allows you to create ads from your existing posts or from images and photos on your phone.
Insights from the panel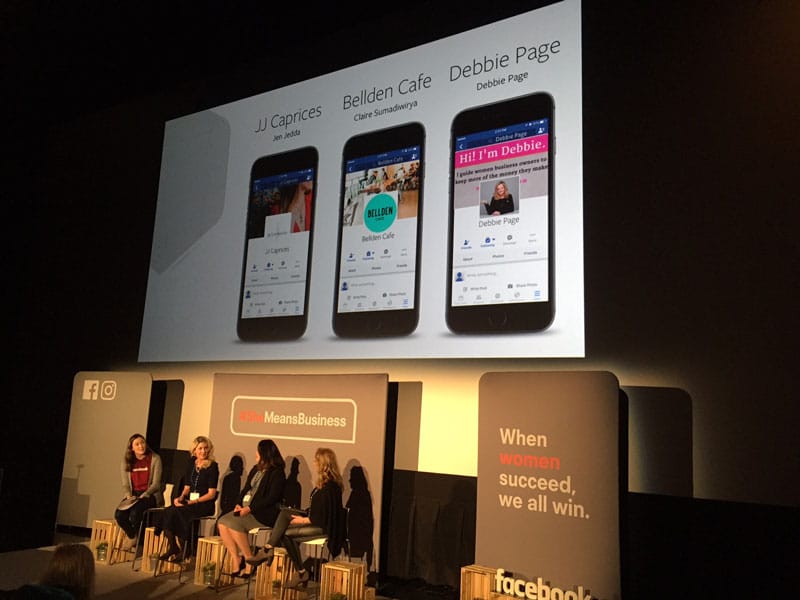 This was my favorite part of the event. Three women, from very different industries – one sells jewelry, one owns a café, and the other is a financial advisor – told their stories about how they have used Facebook and Instagram to grow their businesses. They were awesome.
Here are some of the tips they shared:
People do business with people, so share your story, be personal, and authentic. Your brand is your personality.
Share your stories. You'll have a better reach when showing "the woman behind the brand."
Be consistent. Always show up. Be you.
Treat people like family.
Be genuine, build trust. People want to buy from people they know and like.
Mix up your content. Don't just show a catalog of your work. Tell your brand story – "that you are much more than a pretty pair of earrings."
Your images don't need to be perfect. Less perfect images can feel more intimate.
Adobe Lightroom is a great and easy to use tool for editing your images.
Use video – it shortens the distance to trust.
Repurpose your content.
When asked how much to spend on advertising, they all agreed that their marketing budgets were 7-10% of their revenue. One tip was to test the waters with a tiny budget – of $1 per post or so – and if you get a good response, do it again spending more.
When asked what their biggest challenge was, there was also consensus: Fear, doubt, and worry. How to combat that? Surround yourself by great people, who get it, who support you, and who are ahead of you on your path.
Pretty good stuff! I'm so glad I went. Now it's time to get busy with my Facebook business account. I'm excited to report back in a few months. So, please follow me on Facebook to stay tuned to the rest of the story.
Thanks!