I think it's safe to say we've all purchased one or two products based on a testimonial.
It may have been a Google or Amazon review, a word-of-mouth referral, a case study, or even a friend sharing on their Instagram.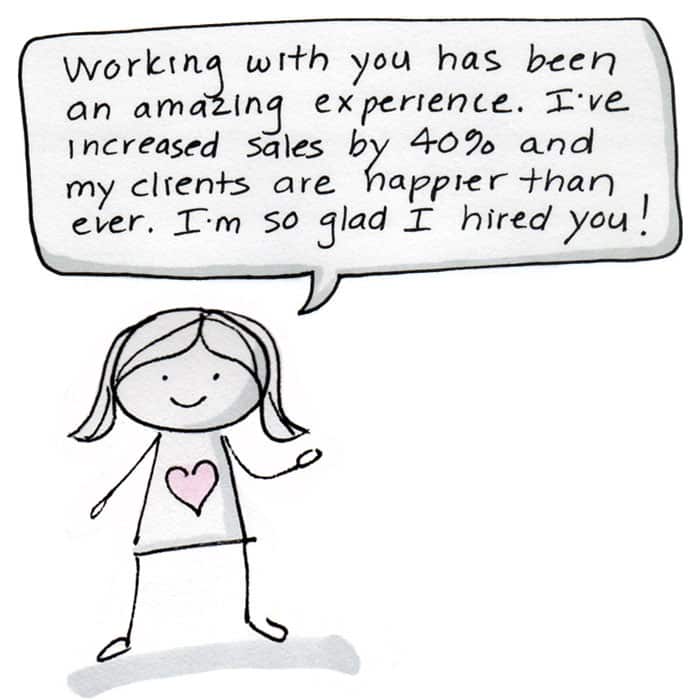 But, what is it about testimonials that help influence sales? It's social proof. Whether you're working with testimonials, reviews, or case studies, these social pieces help build trust and credibility for your business.
Testimonials are honest feedback from past customers that communicate their unique experience working with you and the value you offer.
And they work!
In fact, according to BigCommerce, 88% of consumers trust online testimonials as much as recommendations from family and friends.
Yet, so many entrepreneurs are scared to ask for a testimonial (or struggle to place them in their marketing). Usually it's because they lack an element in their process that actually asks clients for feedback.
By requesting a testimonial after a product or service is delivered, you'll start to develop your own social proof that will, well, show off your value! And that proof is exactly how you can support future customers in taking action with you (just like when you bought a product based on a review).
At the bottom of this post, I'm linking you to my template for gathering effective testimonials. BUT, before we get there, I want to make sure you have a clear understanding of how to use testimonials and ensure they are effective.
Let's get started!
How to use testimonials across your marketing
Your sales funnel, also known as the customer journey, is a HUGE piece of your marketing puzzle.
Your customer journey is built on identifying where the majority of your customers are in your sales funnel. By knowing where they are, you can support them in taking action.
I dive into this in more detail in my beginner's guide to developing a sales funnel, but here's a snapshot of what your sales funnel looks like.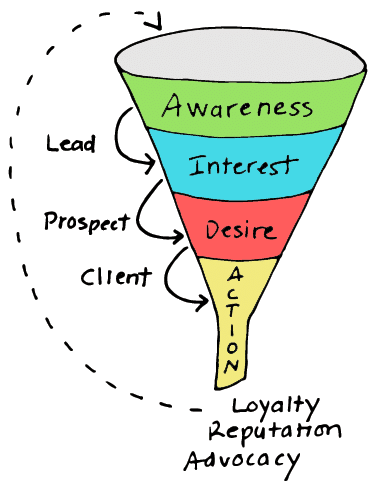 In 4 simple steps, your sales funnel usually looks something like this:
Awareness: your client is aware of the symptoms of a problem they have.
Interest: your client is aware of the problem, but unsure of solutions.
Desire: your client is aware of the solutions, but unsure of which one to choose.
Action: your client is aware of the solutions and ready to take action with one.
By mapping out your sales funnel, and identifying where your audience is in their journey, you can leverage your marketing to meet them where they're at with social proof.
For example, if your clients are in the awareness or interest steps of your funnel, sharing testimonials on social media or on an optimized web page would be ideal for visibility. If they are closer to desire, you may want to group testimonials based on the product or service pages they're analyzing. Case studies are also great for nurturing "desire" clients as they go into more detail about the customer experience.
Based on your sales funnel and the needs of your customers, you can position testimonials across your marketing that effectively calls them to action.
How to get a client to write you an effective testimonial
Maybe you've been receiving awesome feedback but don't have the right content available for an effective testimonial.
Luckily, there's an easy way around that!
By providing your clients with a template or guidelines for writing an effective testimonial (and actually asking for one), you'll receive much more valuable content you can use for social proof, from testimonials to case studies.
Here's what I consider to be the top five pieces of what makes an effective testimonial:
1. Start with the problem
Every business is in business because they are providing a solution to a problem. By first stating what that problem is, your ideal audience can identify if they have that problem and if they are in need of a solution like yours.
2. Clarify how you addressed the problem
This is your opportunity to differentiate yourself from your competitors, and where you want to communicate your unique value proposition. The how of your solution is crucial for your audience to understand how you live out your why.
3. Note how the client found you
Social media. Word of mouth. Google search. Learning where your customers find you is a HUGE piece of your growth puzzle. Why?
It presents opportunities for future marketing activities.
It's super valuable for future customers. It shares common trends among your client community and helps build trust and credibility.
4. Share why they chose you
This is another opportunity to bring your uniqueness to the forefront. Maybe the client chose you because you're local. Maybe they chose you because your process was more suited to their needs. Sharing your customer's why helps future customers further understand your why.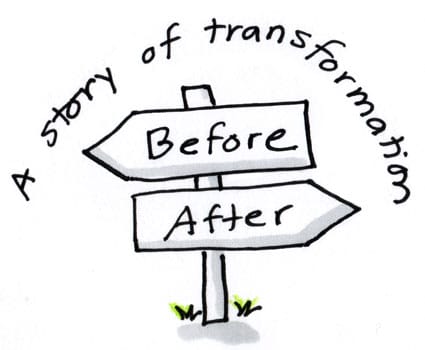 5. Show how your solution transformed their life
This is my favorite part—this is where you clarify how the problem was affecting your customer, both logically and emotionally, and how your solution transformed things for the better.
The goal here is to share a story that actually resonates with your audience. You want them to read a testimonial and get excited about having the same memorable experience as your past customers.
Ready to fill in the gaps of your customer journey and inspire more action?
Start by implementing a simple testimonial element into your process with my Testimonial Template. Immediately start sending it out to clients, or tweak it as you need, and watch how their stories help grow your business.