Has COVID-19 slowed down your daily routine but upped your inspiration?
The economy is shifting rapidly. Maybe you've lost your job or your job isn't what it used to be. It finally feels like the right time to leap into self-employment. 
You're developing new business ideas. You're networking with new people through virtual platforms. Your creativity is off the charts and you just want to get your idea online! 
However, launching your website is not the first thing you want to do.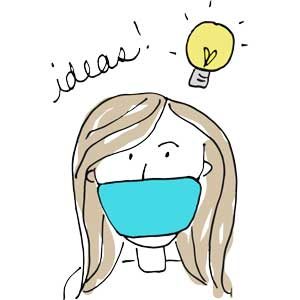 Having a bad website can be worse than having no website.
Your audience isn't going to take action with you if you haven't built your website for them, or considered how it's going to work for your business. In order to organically and strategically grow your business, there are a few things you'll want to consider before you launch your dot com. What might those be?
Here are 5 questions to ask yourself before you begin piecing together your website.
People engage in products and services because they have a problem that you solve. 
Diving into the physical and emotional barriers that are in the way of your audience accessing your solution, is how you connect more meaningfully with them.
Ask yourself:
What age range is your audience and where do they live?
What are their major pain points?
Why haven't they solved their problem already?
Are they even aware of the problem they have?
When you dive deeper into understanding the ins and outs of your audience, you are able to strategically build out your marketing goals and content to speak to them. 
Getting to know your audience will help you identify your key messaging. The goal is to clarify what you offer so that when your audience becomes aware of you, they immediately  understand your value, and want to take action.
What are my growth goals?
Let's say you get your website up and running. What's next?
How are you leading traffic to your website?
How do you empower your audience to take action with you? What is the call-to-action? 
Where do they go after they've clicked that "buy" or "book a call" button?
What does your process look like once you've made the sale?
This is where strategy comes in. 
Because at the end of the day, you can't do everything at once. 
Start by identifying what you want to achieve in your first quarter and in your first year of business by creating your business strategy. Take it one step at a time by prioritizing your quarterly needs so you can achieve sustainable results.
Identifying what that growth goal is first will help you roll out the layout and funnel of your website.
Are you fun and formal? Or conversational and irreverent?
What brand voice speaks to your audience in a way that they feel connected to you and want to learn more?
Building your brand personality can be done in one or two ways:
Using brand archetypes to decide which character your brand fits best
Or if you're an entrepreneur, maybe your individual voice is the voice of the brand. 
Regardless of how you approach your brand voice, consistency is key.
One you've identified your ideal audience, marketing goals, and brand voice, you can start to clarify your brand messaging and ensure it aligns with where you want to go next.
The visual representation of your brand, as well as your branding elements are another opportunity to build trust and connection with your audience. 
What colors represent your brand?
Are you using stock images or do you need your own photography for marketing materials?
Does your audience respond well to video?
Before jumping into your website, you'll want to ensure that your visual elements align with your goals, audience, and brand voice.
What is the user experience of my website going to look like?
Once your audience lands on your website, whether they are new to the site or have engaged before, how do you want them to navigate your site?
The user experience is about understanding where your audience is in their buying journey, and building out your content and call-to-action buttons to empower them to take action.
Let's say you're a non-profit with a mission to feed vulnerable and low-income families across Seattle. You will probably want your donors to land on your homepage where your hero section will capture their attention with a header like:
"That spare change on your dresser can feed Mark's family today."
This header text, along with an image of Mark's family happily eating a meal as the header image, can be quite powerful in terms of language that inspires your audience to donate, and the visual element adds an emotional appeal.
Now you've got your audience's attention, how do you build trust with them?
Perhaps you send them to your About page so they can dive deeper into your mission and story. Or maybe you lead them right to a Donation or Volunteer page. Maybe your Homepage has everything they need to take action.
The key here is that by diving into who your audience is and how to get them to take action needs to be thought out before you begin designing your website.
Feeling a little overwhelmed trying to address these 5 questions?
That's why I'm here. 
Let me walk you through my process to planning and building a strategy that leads to a beautiful and effective website.