Do you remember playing that game "show and tell" in grade school?
It brought so much joy to us as kids. 
It taught us to craft stories, create connection with our peers and the items we showed off, and build confidence standing in front of an audience of listeners. 
And as the name "show and tell" suggests, it was a great way to engage your audience by providing them with a focal point for your story, as they patiently waited to hear how you, the storyteller, would connect what you'd brought to show them with what you had to tell them.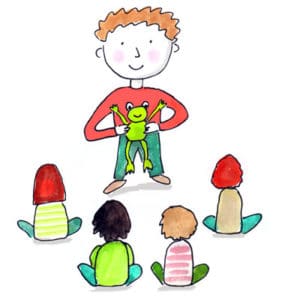 Storytelling has always been this magical way of bringing communities together. And almost every story follows the same formula: a protagonist with a problem must go on a quest to find a solution to their problem. Along the way, they are presented with challenges they must overcome before obtaining the solution, and living happily ever after. 
We like this story formula. All of us. 
Why? Because we've all been that person with a problem that needs to go on a quest to find the solution—but had to overcome barriers to get there. 
This is why a story can be so powerful for engaging your audience in the value you have to share with them. By understanding their pain points and needs, you can shape your brand story to show them the transformation you provide if they take action with you.
But how do you make your story even more accessible, memorable, and unique?
Build a brand identity that shows and tells with clear messaging and engaging visuals.
Building your brand identity, or visual story, can be as simple as your brand logo and the colors you choose to represent your brand, or as extensive as a whole brand illustration system.
And that's why I wanted to cover the strategy and consistency needed to build a strong visual brand.
I'll admit it—building your visual brand is work. Often it means hiring a branding professional to build the scope of your brand, and the consistency of your visual story across your marketing channels.
And that's why I'll always repeat:
Putting the time and energy into creating a clear, unique, and memorable brand that makes your audience think of you every time they encounter the problem you solve, is the best investment you can make for your business.
And it starts with a strategic plan of action.
To help you get started in your visual storytelling journey, I'm diving into the three different ways you can approach visual storytelling, how to use your visuals across marketing channels, and how to connect your brand visuals to your brand story.
Identifying and clarifying your visual brand
Usually brands choose between three types of visuals for brand storytelling:
Stock photography are photos that have already been created with a story concept in mind by an artist or photographer. The concept is usually generic enough that multiple brands can use the photo/s for various contexts. 
What does this mean for your brand? Although it's an easy solution to find affordable visuals, you may struggle to find photos that fit perfectly into your visual brand guidelines, or the messaging you are trying to communicate in your story. Because the images are licensed for multiple uses, often the ones you have chosen have already been used across thousands of other websites.
Brand photography is personalized photos that are unique to your brand, often including images of you, your team, and your products or process. Because you work one-on-one with a creative director, you have the freedom to play and connect each image taken to the colors, tones, feel, and textures of your brand. 
If you are a people-centric brand, where your team is constantly interacting with customers, this is a great opportunity to start building authentic connections with leads as soon as they land on your website or your social channels.
If you're an artist, photographer or craftsman, bringing your audience into your unique artistic story, showcasing you and your work across your marketing channels, is an effective way to grow your following.
Now this is the fun approach (and my personal favorite, if you can't tell!). By working with an illustrator or graphic designer to draw custom illustrations and animations, you can build an entirely unique world for your brand. In this world, characters can be drawn and animated to resonate with your audience through their many logical and emotional challenges, adventures, and transformations. Alternatively there are stock illustrations available as well, like clip art and icons, which can be found on stock photography platforms.
Illustration also gives you an opportunity to play with story, showing the many sides of your characters or problems through shapes, colors, lines, and content. You can play with an altered sense of reality, clearly lay out complex thoughts and problems, and create a visual story that is uniquely yours (making it memorable and more valuable!).
I struggled with communicating my story in a unique visual way until I was inspired by a podcast interview with Ingrid Lill, who ultimately helped me illustrate my website, communicate my brand visually, and continues to teach me how to draw my own illustrations for my website. One of her mentors, Dan Roam, is another great illustrator who uses incredibly simple drawings to bring clarity to brand communication.
Connecting your brand story and your visual story
I'm a really big fan of the StoryBrand framework. 
Identifying how to place your customers and their problems into the story of your brand, helping them access the solutions they need to thrive, is one of the most effective ways to build clear brands that resonate with your audience. 
Ironically, brand clarity is usually the most complicated step in building your brand story. Visual storytelling helps you clarify and simplify the who, what, how, and why of your brand, making it easy to communicate your value to your audience.
For example, if you are a process-driven business, using a visual representation of your process would be a great way to engage your audience in the value of your process. Through visuals, as well as logos, colors, and typeface, you can easily communicate your brand's language and personality.
Focus is also another challenge for many brands as using different approaches to visual storytelling often impacts the clarity of your messaging and story, for example: using stock photography and illustrations.
When it comes to storytelling, clarity and consistency are key.
Consistent branding is what builds on the expectations and promise of your brand, while creating customer loyalty. 
By first identifying the visual route you want to go with your brand, based on what resonates with you and your audience, you can customize the approach across your marketing channels—from social media to print—making sure everything is cohesive and aligned.
Not sure you have a hold on your brand story?
It's best to identify your sales funnel first and how you guide your customers through it. Check out this beginner's guide to developing sales funnels to learn more.
How to use your visuals across marketing channels
Let's say you're just launching your business and are looking to get started with a website, Facebook page, email marketing, and printed business cards.
Before you even decide on your visual brand approach, you'll need to consider how it will be represented across all marketing channels to maintain consistency.
Let's take a look at my website as an example.
On the home page, the first illustration at the top of the page is a stressed out entrepreneur trying to figure out how to connect with their audience. As you scroll down the page, and are introduced to how my web design and marketing services help you connect with your audience online, the illustrated characters become more relaxed and happy, showcasing the logical and emotional transformation of working with me through my characters and copy. 
You'll also notice every blog post has a unique illustration to go along with the theme or key takeaway from the content. 
Whether you're choosing stock images, brand photography, or illustrations, the first step is to clarify how your visuals will represent and communicate your brand story across multiple marketing channels. This will help you identify which is the best visual approach to pursue, how to make it stand out, and make your visuals a memorable piece of your brand story.
Can't quite fit all the pieces of your visual brand story together?
Maybe you need to get to know your audience a little more. 
By diving deeper into your audience's real lifestyles, major pain points, and how your solution makes their lives better, you get a clearer picture of how to communicate with your audience online.
That's right—it's strategy time!
Let's jump on a call to dive into what challenges you're currently facing in rolling out your brand. Together, we'll put together solutions that help you show and tell your story clearly to the people who need to see and hear it most.